Who's Afraid of Red, A Story Cycle in Three Parts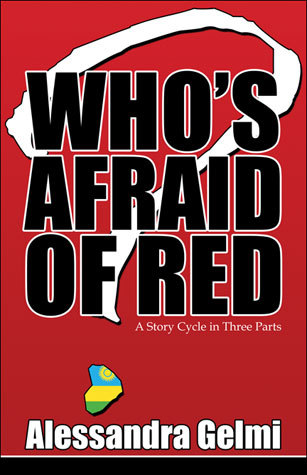 Reader Reviews from AMAZON U.S., France, Poland, Japan, Spain, Italy, Tower Books, Target, Spanish Target, Blackwell, Barnes and Noble, Books-A-Million, Borders UK, and Harvard Book Sellers
Riveting*****5.0 out of 5 stars
"Alessandra Gelmi is a pristine storyteller. This is a brave undertaking, that encapsulates the Rwandan genocide, where the dead remain to chastise the living. Alessandra wrangles with universal verities. Here her soul is transparent. From what I understand, Nobel Peace Laureate Archbishop Desmond Tutu, when lecturing recently on The Spirituality of Reconciliation at Washington's National Cathedral, had nothing but praise for Gelmi's debut novel."
–Diogenes Arosemena
Former Minister of Education
Panama City, Panama

Excellent Material*****5.0 out of 5 stars
"Who's Afraid of Red by Alessandra Gelmi is prose on fire. She is that good. She has an ear for dialogue and gets the man-woman, battle of the sexes thing down pat"
–Barry E. Shuman, CMDR US NAVY (ret.)
The Nation's Capital
W.A.R. (Who's afraid of Red)***** 5.0 out of 5 stars
"Alessandra Gelmi, a former Dartmouth student, exposes the mechanics of war in social-psychological terms and makes us rethink our mindset."
–Paul Korfonta-currently in Iraq
Dartmouth '86

Amazingly Talented***** 5.0 out of 5 stars
"I personaggi che vivono nelle pagine del libro della Gelmi sono un testimonio del suo brillante talento artístico nel descrivere dettagliatamente le atrocità del genocidio in Rwanda."
–Professor Bruno M. Damiani
Modern Languages Department
Catholic University of America
Excellent Story Telling! ***** 5.0 out of 5 stars
"Gelmi paints wonderful word pictures, inviting you to look at the complex portrait of moral struggle and human frailty. Against a dark backdrop of unfettered genocide, slashes of wanton killing are juxtaposed with careful strokes of tender confused love. Gelmi paints brutal reality. She illuminates with a unique break in the novel, quoting poignant historic truths; at once stretching the canvas of reality tightly on the frame of Rwanda when it was smeared red with the horrible death. Gelmi explores the paradox of intimacy and selfishness, loyalty and self preservation in her characters. A fascinating foray... Encore!"
–Jerold Frederick Sowles, author of Truest Love: The Universe
Spiritual Exercise**** 4.0 out of 5 stars
"Who's Afraid of Red by Alessandra Gelmi examines the nature of God and the problem of evil and the paradox suffering plays in the lives of the enlightened. This book seems a spiritual exercise for Alessandra, in as much as it chronicles a man's search for closure after witnessing the 1994 Rwandan genocide. It reflects her concern for human rights and the balance of glory and pain in our world."
–F. Davachi, MD, Consultant to The United Nations
Who's Afraid Of Red**** 4.0 out of 5 stars
"Who's Afraid of Red by Alessandra Gelmi is topical, and serves as a warning in view of the crisis raging in the Sudanese Diaspora. After four years and well over 400,000 deaths, the genocide in Darfur continues. How will history judge us? In the words of U.S. Secretary of State Condoleezza Rice 'The Time For Stalling Has Passed; The Time For Action Has Come.'"
–Jan Walecki, M.D., Krakow, Poland
Torque***** 5.0 out of 5 stars
"Very powerful writing. Gelmi maintains high standards, exploring providential themes. Since the novel's release in 2007, this book has won four national awards, one from the National Federation of Press Women. Joel Siegel of 'Good Morning America' hailed it as 'brilliant' and The Reverend Desmond Tutu praised Gelmi's 'historical insight' when he spoke on the 'Sacredness of Reconciliation' at Washington's National Cathedral. Her latest book Ring of Fire is available now."
–Celeste Fragonard, La Sorbonne, Paris
A shockingly realistic ride****4.0 out of 5 stars
"Alessandra Gelmi does a great job of portraying the darkest side of human aggression. At the same time she brings to light the greatest desires of the human heart. Much of the book is factually based, adding a depth to the story and meaning. I would recommend this to any avid reader."
–Yuhi Morita, Osaka, Japan
Quirky Historical Fiction, Brief but Arresting*****5.0 out of 5 stars
"Reminds me of Elie Wiesel's Night. Wiesel has stated ...'to remain silent and indifferent is the greatest sin of all...' Gelmi chronicles the Rwandan genocide, infusing the personal story with historical accuracy vis-à-vis a true timeline. How her characters navigate through their moral anguish, through words, no less, is compelling. She changes direction in the third part part of the novella/story cycle --this is a trilogy-- and we see a woman's diary executed with great poetic skill. Reminds me of a modern twenty first century Anais Nin."
–M.M. Tate, Columbia University Spectator
Delightfully twisted, tantalizing, and tasty...***** 5.0 out of 5 stars
"I just finished reading Alessandra's Gelmi's novel Whose Afraid of Red. Like Oliver in Oliver Twist, I find myself asking: "May I have some more?" "More! Yes - more!" Delightful, twisted, and insightful are adjectives that come to mind. She leaves the reader wanting. People want to know: will Sylvia and Leon finally get it right? Or, will Sylvia spiral down the old familiar road of younger men in her eternal search for Mr. Perfect. From a purely male perspective, if Sylvia were my sister, I'd smack her upside her head and tell her to smell the coffee. I'd say, "Read the tea leaves sis." Not to be too picky, but she has a knack for picking losers. OK - that's brotherly love. Will Leon's baby girl (by another woman) clinch it for these two - in a positive way? Will Maria's sacrifice and the power of redemption work its magic? Will Leon earn the love and sacrifice of these two women? Whose Afraid of Red is a great read! The author's wit and charm in exploring the complexities of relationships between couples, human suffering, and renewal in a time of genocide is compelling and healing. The premise of this story involves an ex-divinity student who leaves the seminary to serve as a foreign correspondent in the war torn lands of Rwanda. Trapped by circumstances between the past and the present, Leon is drawn to Sylvia, an art historian who is drawn to his dark and mysterious character. This duet cannot be complete until Leon returns to Rwanda to restore his mind and find the woman and child he left behind. You won't want to put the book down when you start. You may want to throw it against the wall and pick it up again, crying out for more."
–Francisco Estrada C.
Alessandra Gelmi***** 5.0 out of 5 stars
"Alessandra Gelmi es una escritora brillante de gran relieve intelectual. Su obra encierra las principales corrientes sociales e intelectuales del año 1996 y demuestra la relevancia de dichas corrientes en el contexto de los grandes problemas actuales como los que están pasando en DARFUR y con la Diaspora del Sudán."
–B.M.D Ph.D.,Visiting Professor University of Salamanca
Who's Afraid of Red by Alessandra Gelmi*****5.0 out of 5 stars
"How very much I enjoyed this novel: Who's Afraid of Red by Alessandra Gelmi. It is absolutely terrific, very well written and is the author's very own exploration of The Heart of Darkness around a century after Conrad but in a manner more reminiscent of Aldus Huxley in Point Counter Point, all be it in a different context. (It is strange how nothing has really changed in Rwanda / Belgium Congo.) The only thing that told me Alessandra Gelmi's book wasn't English was the theological nature of the conversations nested between various events, including the odd bonk. (The second page already.) The English like bonking as much as anyone but as the reader may have rightly observed, it was Philip Larkin who said that sex was not invented till 1963. The English also tend to reflect the secular in society as Tony Blair (a practicing Christian) commented when asked if he had ever preyed with George Bush. His response was a very English, "No - We don't do God" but as a good little Catholic Girl this author certainly does, and that is exactly how it should be. Of course we do have writers like C. S. Lewis and poets such as Gerard Manley Hopkins, but in general the religious is understated and someone like Philip Pullman is perhaps more representative of this. His spirituality is more Quantum Mechanical. In general, the Pilgrim Fathers seem to have taken the religious gene with them."
–Peter Hayward, Kent, England